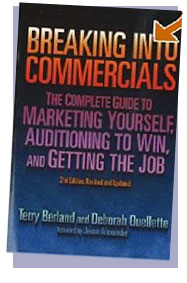 Every year, over 60,000 commercial roles for all ages, physical types, and ethnic backgrounds are cast by ad agencies, producers, directors, and casting directors across the country. Breaking Into Commercials will show you what it takes to get one of those roles and give you an edge over the competition.
This essential guide provides untapped opportunities in regional markets and abroad, and shares valuable insights into developing a competitive edge."
In Breaking Into Commercials, you will discover how to:
• Get the best head shots
• Create a resume and cover letter that opens doors
• Fine-tune your craft to develop a competitive edge
• Find a good commercial agent
• Give a commercial audition that will result in more callbacks and jobs
• Prepare for a commercial acting shoot
• Make the most of working in regional markets
• Move from regional commercials to major markets
• Break into voice-over work
• Cross over from modeling to commercials
• Launch your child's commercial career.

$21.95
acting Tips, acting jobs, cattle calls, commerial casting, casting director, commercial casting calls, acting book, book on acting, commercial cating calls, break into acting, commercial agent, commercial audition, casting director, commercial acting, television commercial, audition, head shot