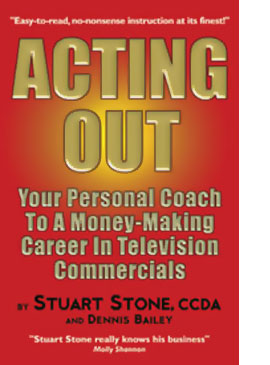 If you have made the choice to become a commercial actor and want to follow the best plan to lead you to a successful acting career, then this book is for you. Learn the elements, acting technique, approach, insider information and choices that will not only set you in a winning direction, but also make you stand out from other actors and models in the field.
Winning head shots and resumes
Style & Image
Marketing Yourself
Copy reading techniques & analyzing commercial copy
How to acquire a commercial agent
How to audition for the commercial
You as a business
How to handle commercial callbacks
Working with fear
Goal setting
Working with self-confidence/self consciousness
What to do when you get the call "you booked the commercial"
Find the inside understanding of what makes a successful working commercial actor. Showbiz Ltd.
STUART STONE, a renowned commercial casting director for over ten years, has cast hundreds of television commercials and is responsible for booking thousands of actors in television commercials as well as independent films, voice over's and print campaigns. Stuart has worked throughout the United States and his reputation for discovering new talent, his deep understanding of actors and models and his unique casting ability have put him in the forefront of casting directors.
DENNIS BAILEY, a working Broadway, television, film and commercial actor for over twenty-five years.
acting out, acting book, commercial actor, stuart stone, commercial auditions, tv commercial actor, commercial auditions, casting director, commercial acting, casting agency, commercial agent, acting, casting calls, headshots, acting,