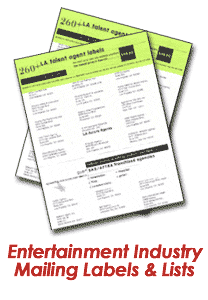 Beginners and Movie Stars alike all use Showbiz Ltd. Whether you want to find a talent agent to represent you, personal manager to help design your career,casting directors that are holding auditions now or other contacts that give you the advantage over the competition,
Up to date Contacts in Various Formats Saving you money and time
Our database is updated daily so you are sure to have the most current information available. Best of all… we only list legitimate licensed companies. We guarantee you will never be asked to pay fees or dues by anyone on our mailing lists, mailing labels or Email lists.
Everyone Trusts ShowbizLtd.
Since 1991 our casting director mailing labels, talent agent mailing labels, other products and lists have been sold in 40+ stores throughout Los Angeles & New York including Argentum Photo Lab, Ray the Retoucher and many FedEx Kinkos, We are endorsed by stars & studios, most importantly...we update daily and only list legitimate licensed talent agent that never charge you fees. Now this showbiz insider information is available to you. Don't be fooled by scams or imitations. Read our celebrity and studio endorsements.